The Council of Europe has promoted the establishment of the European Cultural Itineraries with the aim of favouring the reciprocal knowledge and cooperation of the peoples of Europe through the sharing of common cultural aspects.
The Council of Europe defines the European Cultural Itineraries as "a pathway that passes through one or more countries or regions and is organised around themes of European historical, artistic or social interest, as regards both the geographical layout of the Itinerary and its content and significance."
Strategic aims:
To promote – through cultural and sustainable tourism – the sharing of common values and a feeling of belonging among European citizens
To enhance the territories through which the Itinerary passes with a homogeneous shared leitmotif (cultural, historical, artistic, productive)
To pursue the values of responsible, sustainable, environmentally compatible and ethical tourism (WTO principles)
The task of attending to discipline, to the procedures for accepting candidacies of new European Cultural Itineraries, their approval and control and the continuity of promotional activities, has been entrusted to the Institut Européen des Itinéraires Culturels based in Luxembourg (http://www.culture-routes.lu/php/fo_index.php?).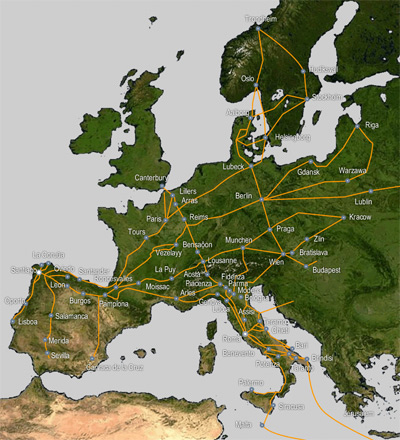 The European Cultural Itineraries, according to the founding regulations, must possess precise characteristics:
they must be centred on a theme representing European values, common to several countries;
they must be developed along a historic route or, in the case of cultural tourism, create a new one;
they must develop projects for long-term multilateral compatibility in some priority sectors (scientific research, preservation and enhancement of the heritage; cultural and educational exchanges among young people in Europe; contemporary practice of culture and the arts; cultural tourism and its sustainable development);
Besides corresponding to the general criteria described above, the construction of a European Cultural Itinerary requires the definition, by a Scientific Committee created by the proposers, of precise scientific criteria for selecting admissible locations on the route.
ANNEX